About Us
BPH Embroidery
As two full time RVer's and licensed ham radio operators we decided to embark on a small business venture that involved both interests, one we could do in our travels and as a service we could provide to Hams. Brent had been attending Hamfests over the years, helping his friends from RF Stuff set up and sell ham radio parts and accessories at such events. He bought a hat and embellished with his name and call sign at one event, but had never seen another such vendor at any of the many other Hamfests around the southwest.
Coincidentally, I, Paula, was wondering what I could do to earn a little income on the road. My background is in decorating with fabric, so, when Brent proposed we embroider hats and sell them at events we would already be attending, it seemed a natural segue for me and an opportunity for us both to do something together.
So the computer geek and the decorator purchased a Brother professional grade, computerized, multiple-needle embroidery machine, and with specialty hat hoops and a little training, set off on the Hamfest circuit. And it was great fun!
Right away we decided to include T-shirts in our inventory. And with experience, we learned another machine would give us better production capabilities at the shows and for a web based hat and t-shirt embroidery business. So now we have two Brother machines at your service.
We also started creating patches for Ham Events, such as the Quartzfest 20 Year patch and for groups, like our Skywarn patch, when Brent learned to digitize.
So, we are at your service! Check out our hats, t-shirts and, now, patches! Pick from our great assortment of threads and designs. In no time you'll have your one of a kind, personalized creation to wear!
Palm Springs, CA Hamfest 2015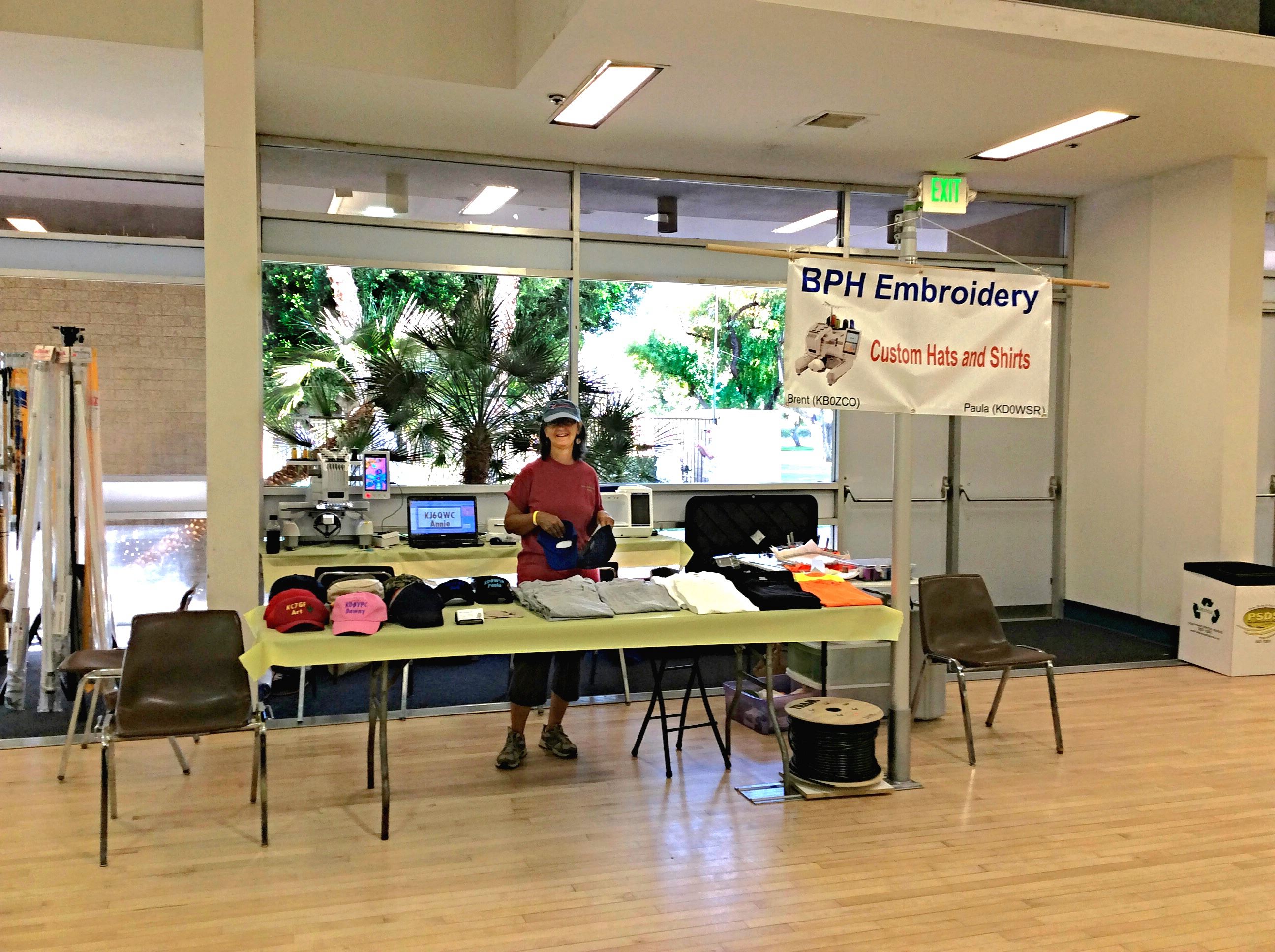 Mesa, AZ Hamfest 2016 Our sewing machine is inside the van and we do the work on site.